Mansion Party TONIGHT!!!
Mansion Party Update! Address Revealed- (3695 Cascade Rd SW Atlanta, GA 30331 )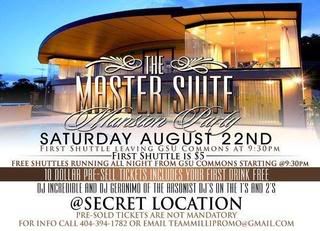 Ok Ladies and Gentleman, the time is rapidly approaching for all atlanta college students and surrounding areas to attend the first annual and memorable Mansion party extravaganza! Saturday August 22nd, 2009! Yes...this Saturday!
Heres the Rundown:
Wavy Ladies- check
Fly Dudes- check
Free Drinks- check
Free transportation via shuttles at 2 separate locations- check
Free PARKING at the Publix on Cascade Rd. - check
Huge Mansion with plenty of elbow room- check
Affordable Tickets at 10 dollars for Immediate Entry All Night- check
5 dollars off the first shuttle- check
Bottle Service- check
V.I.P. sections for the lowington- check
Team Millionaires, Selfish Ent. , and 21 Ent. promotion, 3 of the biggest Promotional Companies to ever hit the college scene- check
Students from Clark, Spellman, Morehouse, Georgia State, Perimeter College, Atlanta Metropolitan, SCAD, Art Institute, Emory University, Georgia Tech, Clayton State, Kennesaw and MORE! -CHECK!
Heartshok Ent. - DOUBLE CHECK!
Dj Incredible & Dj A-plus of the Arsonist Dj's on da 1's & 2's
Shuttles will be leaving from the GSU Commons and the Publix Parking Lot beginning @ 9:30 pm est. (FREE)
Contact HeartShok Ent. President Dayne Dash for any other information- daynedash@Gmail.com , www.twitter.com/daynedash and 848-459-5667